Port Douglas Daintree
Where the rainforest meets the reef
Cape Tribulation, Douglas Shire
Why visit Port Douglas Daintree
Port Douglas Daintree is the quintessential paradise, showcasing the best of both worlds – the reef and the rainforest. From the Great Barrier Reef, the world's largest reef system, and the Daintree Rainforest, home to the most unique ecosystem in the world; Port Douglas Daintree occupies a strong connection between the reef and the rainforest with the two just being minutes away from one another.
Being the only region in the world where two natural World Heritage listed places meet, the region offers an abundance of tours and day trips to explore the wonders of the Great Barrier Reef and the Daintree Rainforest. Read further to find out more about a green holiday in Port Douglas Daintree!
Culture & Local Life
With the high demand of tourists in Port Douglas Daintree, investments have been made to preserve the cultural heritage and provide the best experience for guests whilst focusing on the impact of the surrounding environment. Through the development of the Mossman Gorge Centre, a World Heritage listed rainforest is now protected.
The Mossman Gorge Centre not only shares extensive knowledge about the environment from our local Kuku Yalanji culture, but also offers several official welcome to country areas, a contemporary café serving Indigenous bush food inspired cuisine, an award winning modern art gallery, authentic local Yalanji gift shop and; eco-friendly shuttle services to manage visitor numbers to the national park. The Mossman Gorge Centre delivers the perfect cultural essence all in one place through the diverse experiences on offer.
Mossman Gorge Guided Walk, Douglas Shire
Getting there
To start on your green holiday in Port Douglas Daintree region, there are two main ways to access the destination. Cairns Airport, a one hour drive along the scenic Great Barrier Reef Drive, is how the majority of international guests arrive. Domestic guests either arrive by plane or drive from destination to destination.
Getting around
When in Port Douglas Daintree, there are numerous options for travelling around the region. In Port Douglas, there are many shuttle bus services to choose from that give guests an opportunity to travel around the town. There are also many types of bicycles each, equipped for all adventuring needs.
When wanting to travel further up north and explore Daintree, using a car is the most viable option. To create fewer carbon emissions, a ferry is available to cross over the Daintree river but, driving is still needed once on the other side. In order to be more aware of the environment and create fewer carbon emissions, visitors may join a rainforest tour to access compelling interpretation along the way and learn more about the destination.
Nature & Wildlife
Possessing a backyard filled with a unique connection between the reef and the rainforest, Port Douglas Daintree offers a wide range of opportunities for visitors to appreciate the natural environment.
Simply strolling on Four Mile Beach will parade the tropical sun, palm-fringed sideline and mountain ranges or; a leap into the World Heritage Listed Great Barrier Reef can end in swimming with turtles and exotic fish.
The Daintree Rainforest, estimated to be 125 million years old, is one of the most biologically diverse areas on the planet. Dinosaurs still roam today with Southern Cassowaries and Estuarine Crocodiles to be seen.
Cassowary, Cape Tribulation, Douglas Shire
Sustainability
Port Douglas Daintree is a forward thinking, dynamic region in its approach to sustainable tourism. Port Douglas Daintree has introduced sustainability practices on a unique scale within local business and community groups. The region became Ecotourism Australia's first certified ECO Destination in 2019 and has become Australia's most tropical and most green region in more ways than one.
Health and Safety
Within Port Douglas Daintree, the region is taking strong measures and precautions to guarantee local and domestic guests health and safety in the fight against COVID-19. There are three main measures that the region has taken on board, which include: COVID-Safe Industry Plan, COVID Clean Practising Business and restricted car access. 
COVID-Safe Industry Plan involves the support of the Department of Innovation and Tourism Industry Development and the collaboration from industry stakeholders, to ensure that businesses are operating within the provisions stated in the Queensland Roadmap to Recovery. The COVID-Safe Industry Plan gives business operators guidance, increased confidence and knowledge that a COVID-safe environment can be provided. 
COVID Clean is a checklist that will guide tourism businesses through the recommended steps to take in order to return to business. It has been specifically tailored to suit tourism businesses and is following Queensland health directives and Workplace Health and Safety and Infection control standards. 
Restricted car access in the Port Douglas Daintree region has been put into place due to COVID. Car access has been completely blocked off when entering property near the Mossman Gorge and Mossman Gorge Centre to avoid contamination and to stop the spread. There is also restricted car access for non-essential travel from Cape Tribulation in the Port Douglas Daintree region, all the way up North involving the Cook Shire.
Travel tips from our editors
Ecotourism Australia certified experiences
As Port Douglas Daintree is an ECO Tourism Destination, there are many Ecotourism Australia certified tourism experiences available. These Ecotourism experiences include:

Volunteer Work
There are voluntary activities that holiday makers can participate in when in Port Douglas Daintree, such as: clean up beach days, rainforest rescue and the tropical animal rehabilitation centre.
Clean up beach days involve working together with locals and other guests of the region, whilst collectively cleaning up the beaches that surround Port Douglas Daintree.
Rainforest rescue in Daintree is an organisation that protects and restores the World-Heritage listed rainforests that surround Port Douglas Daintree. The projects this organisation undergoes are the re-establishment of rainforests through planting, maintenance and restoration programs available to any who wishes to volunteer.
Tropical Animal Rehabilitation Centre provides care to displaced, injured, sick or orphaned Australian wildlife native to Port Douglas Daintree through voluntary donations or volunteer work for the program. These voluntary actions ensure that the precious wildlife that surrounds Port Douglas Daintree are continually given the best possible care.
Hike & Bike
In the Port Douglas Daintree region, the best way to travel around is by wheels. Not only is it fun, there are no carbon emissions going into the environment. Port Douglas Daintree has pushbikes, mountain bikes, electric bikes and Green Taxis available for all guests to use.
As well as using carbon emission free wheels, walking is a great option too. Once at the destination of choice, there are signposted walking tracks available all over the Port Douglas Daintree region for all guests to be able to explore places and have an eco-friendly adventure out of the car. From short hikes to waterfalls through to full day advanced hikes this is a destination to explore on foot. There are more than enough options to have fun during your green holiday in Port Douglas Daintree!
Plastic Free Paradise
Port Douglas Daintree is dedicated to eliminating single-use plastics and as a region, it is encouraged to use your own drink bottle, invest in a keep cup and only using reusable straws (or simply refusing the use of one at all). The region has also implemented water stations throughout the region so personal re-usable drink bottles can be filled up at any time. These tips will come in handy during your green holiday in Port Douglas Daintree.
Pay Your Respects (Kuku Yalanji)
The Kuku Yalanji people are the Indigenous inhabitants of the Port Douglas Daintree region. They are true rainforest people, living in complete harmony with the environment. It is part of them, and they are part of it, a notion that is brought to life during an Indigenous guided walking tour of Mossman Gorge. Be taken on a journey steeped in heritage as the Kuku Yalanji ancient culture and traditions are discovered at the Mossman Gorge Centre. 
Slip Slap Slop Safety
In Port Douglas Daintree, sun protection for all guests is extremely important and to stay sun safe sunscreens, hats, sleeves and shade should be used continually. To avoid polluting the ocean, a natural sunscreen should be applied half an hour before swimming to prevent it from harming marine ecosystems. Alternatively, full stinger suits have a UV protection of 50+ meaning that this is a better option for protection for both skin and reef.
Sustainability Recognition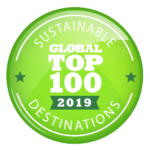 Port Douglas Daintree was named one of the Global Top 100 Sustainable Destinations for 2018 and 2019. Additionally in 2019, the region was named as the Best Of Culture and Communities in the Top 100 Sustainable destinations competition
Port Douglas Daintree was the first region in Australia in 2019 to achieve ECO Destination Certification at Nature destination level
Port Douglas Daintree occupies the highest concentration of Ecotourism Certified operators in Australia, at 25 businesses in 2019
Ada Pasanen
Sustainability Officer | Environment & Planning | Douglas Shire Council
Ada Pasanen holds the position of Sustainability Officer within the Environment and Planning sector in the Douglas Shire Council, whilst also having control over overseas Ecotourism. Ada is pictured with Douglas Shire Council Mayor Kerr and Rod Hillman from Ecotourism Australia receiving the destinations award for the cultural tourism achievements of Mossman Gorge Centre and community.
Tara Bennett
Chief Executive Officer | Tourism Port Douglas Daintree
Tara Bennett is the Chief Executive Officer of Tourism Port Douglas Daintree who partnered with Douglas Shire Council to realise ECO Destination Certification. Tara is passionate about tourism's ability to achieve conservation outcomes that also provide an economic benefit to communities.